Brassware Round Up
As we come to the end of the year, and look ahead to the start of a brand new decade, we wanted to take a look at the last 12 months and the highlights of the Crosswater year. We've launched lots of lovely new brassware in 2019, which is why in this blog post we've rounded up our top bathroom taps of the year.
So, if you're thinking of renovating your whole bathroom in the new year, or are looking for an easy update for your basin or bath, read on to find out about our comprehensive range of brassware – we're sure that there will be something to suit your scheme! We know that choosing the taps for your home is an important decision that can make a big impact on your bathroom space and we want to help you make the best choice for you and your home.
Brassware has been dominated by minimalist design in recent years, but the last year has shown an abundance of brushed copper, gunmetal and matt black. The introduction of texture, with knurling and detailing, has offered an extra level of personalisation in bathroom design, as well as softening what can often seem a harsh industrial aesthetic.
So, from black to brushed brass, and modern to traditional, there have been a number of trends that have emerged this year and, in many cases, we were ahead of the curve with our new brassware launches.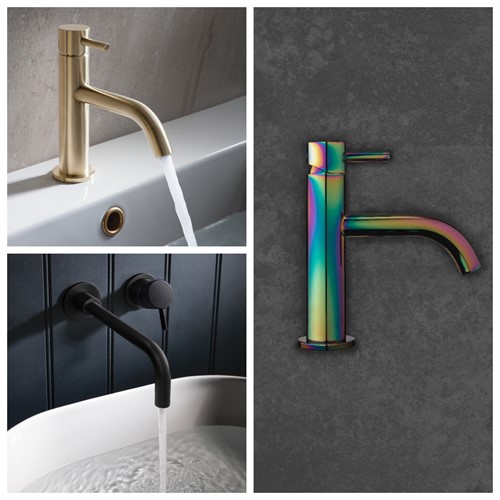 MPRO: A Range of Different Colour Finishes
Perhaps most notably, the launch of our MPRO collection in an iridescent Spectrum finish was a key moment in our year and was hugely successful thanks to the emerging trend for these striking, intriguing, holographic-effect finishes. The first of its kind in the UK, the distinctive effect is unique to each piece and changes when seen from different viewpoints – creating an eye-catching centrepiece.
Joining other finishes in the range including the signature Chrome, Brushed Stainless Steel, Brushed Brass and Matt Black, the MPRO collection presents a superior standard in brassware design excellence that celebrates simple lines and on-trend finishes.
With a strong, graphic form, this style is particularly suited to contemporary spaces, where it cuts a striking figure alongside other strong lines and geometric shapes.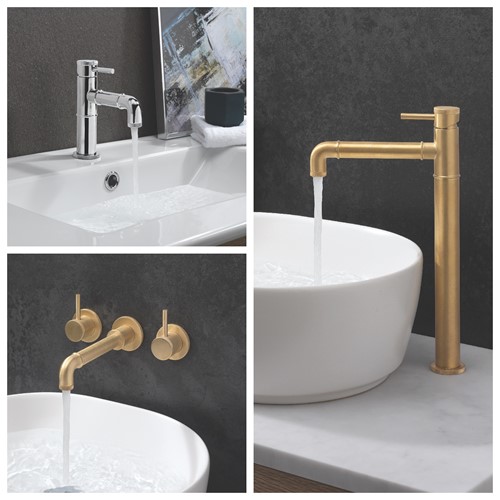 MPRO Industrial: Metallic Finishes For The Bathroom
Many luxury brassware collections feature industrial styling in the form of wheel-like crossheads and knurled detailing, and these styles are becoming more accessible with collections such as our MPRO Industrial.
For those homeowners that enjoy a combination of different styles, this range presents a stunning selection of products that offers the ideal blend of modern and traditional. Featuring intricate detailing from the industrial design era, products range from shower arms to shower-heads, handsets to hoses, and valves to taps, this range of practical brassware creates a striking finish that would suit any contemporary bathroom.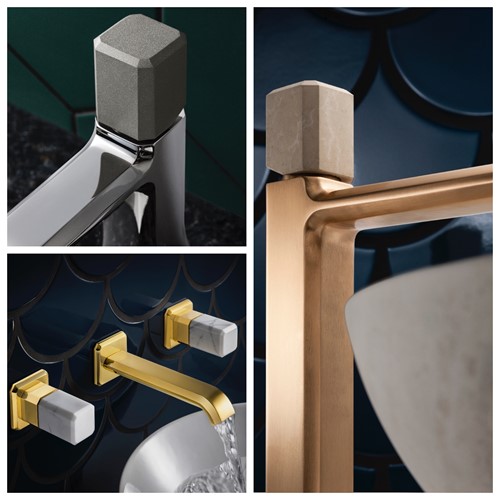 Italy: Unique Mix and Matching For The Bathroom
Our elite Italy collection offers the very highest level of cutting edge design and innovative technology in basin brassware to elevate any bathroom scheme. The 1920s-inspired collection celebrates the decadence and grandeur of early twentieth century design. By uniting cast metalwork with the finest natural stone, a unique look can be achieved. This has proven very popular with the trend for personalisation in the bathroom, allowing you to take ownership over the style and aesthetics of your brassware.
Eight exquisite metal finishes are presented alongside seven distinctive handle designs, to allow a combination tailored to the individual. With base finishes ranging from Brushed Black, Polished Metallic, Yellow Gold and Polished Rose Gold, and handle finishes including Quartzite Velvet and Polished Graphite, there is a made-to-order colour combination to suit every design scheme.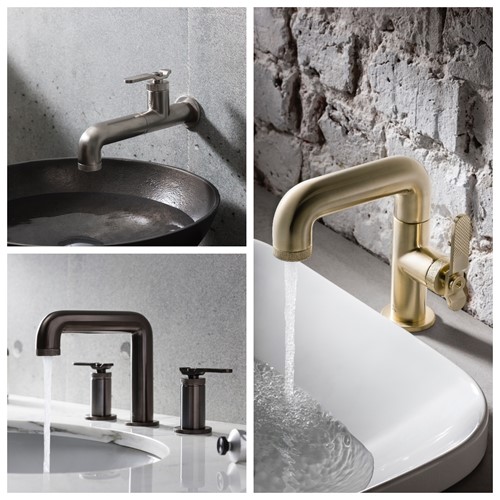 Union: Technology and Style Combined
Intuitive, high performing and built to last, our stunning Union brassware collection is guaranteed to command in any bathroom. Combining superior casting techniques and the latest in thermostatic valve technology, this range of practical brassware creates a striking finish that would suit any contemporary bathroom.
So, whatever your style – whether that's family friendly or hotel-style chic – we have you covered here at Crosswater with our wide selection of brassware available. Take a look at our selection of products on the website for more inspiration.