How To Organise Your Bathroom Efficiently
Your bathroom is one of the most used rooms in the home, which means it must be an efficient working space as well as somewhere to relax and unwind. Due to its frequent use, it can often end up cluttered and untidy – however, for the very same reason, it should be kept neat and organised. No matter how small or awkward your bathroom is, there is no excuse for not keeping it beautiful! In this blog post, we round up our top organisation tips for the bathroom.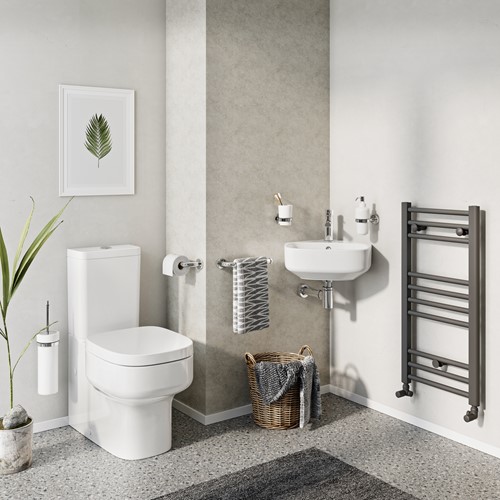 Declutter Your Shower and Bathtub:
From shampoo containers, to slippery soaps and body brushes, there's no limit to the amount of destruction caused by a domino effect when you accidentally knock a bottle over in the shower. Or when you sit up in the bath, and your elbow knocks something into the water that really shouldn't get a soaking. Be sure to have a real sort out of your products before attempting to declutter any further – it's difficult to tidy up when there's just too much stuff (there's only so many ways you can line up a small army of face creams!).
Organise Your Cupboards:
Bathroom cabinets seem to be a magnet for all types of clutter. If you're finding that you have to trawl through your cabinets, elbow deep in plastic bottles, to find that moisturiser right at the back of the shelf, then it might be time to rethink your strategy.
The best bathroom furniture includes storage space below whilst the basin sits above. Wall hung furniture means the furniture is off the floor, giving the impression of extra space and a sleeker, more stylish bathroom that is easy to clean and ideal for a busy family bathroom. Floor-standing bathroom furniture can come with cupboard doors or drawers. These units maximise storage by going right down to the floor and can also have the benefit of hiding any unsightly pipework.
Additionally, mirrored cabinets are available and combine two must-haves in one – plenty of space for regularly used toiletries or other smaller items, as well as a mirror ideal for shaving or applying make up.
Our collection of bathroom furniture caters to the essentials of bathroom storage. From the gliding, stylish curves of the Svelte range, to the practical space-saving properties of the Zion range, there is something suitable to help organise every bathroom.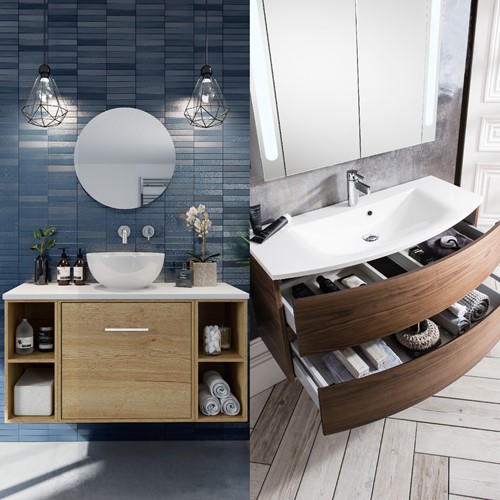 Make The Most Of Awkward Spaces:
Quite often, bathrooms feature awkward corners and angles, especially in smaller rooms where space is at a premium. However, these corners can often end up being handy places for additional storage, such as corner shelves, baskets or hanging hooks. Our Svelte range comes in a practical corner unit for the more compact bathroom. Featuring a two-drawer basin unit, the piece comes in a contemporary White Gloss finish with a stylish handless design, and most efficiently makes the most of those small, awkward corners for maximising storage.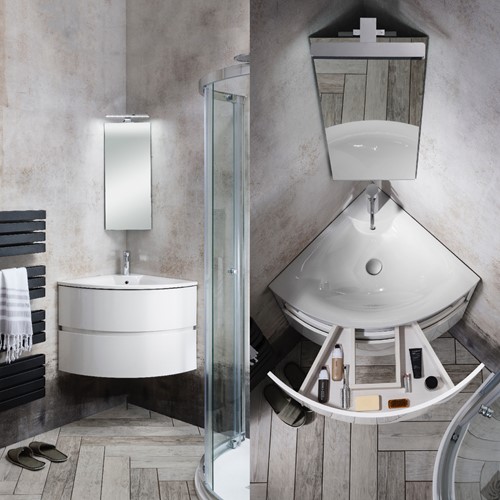 Find Creative Storage Solutions:
Think of storage solutions actually being a way to inject some fun and personality into your bathroom scheme! Consider colourful and creative ways to display (or hide) your items, such as decorative bowls or trays that might otherwise be cluttered around the sink. You can also use apothecary jars to contain cotton pads, ear buds and so on, and display pretty perfume bottles within a shabby chic rack.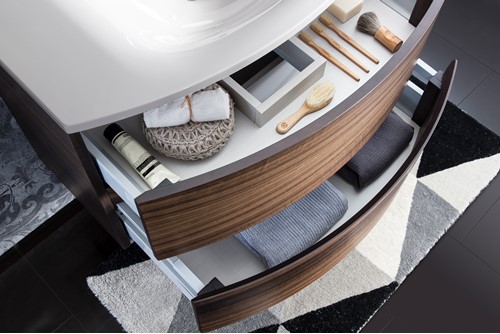 Use Radiators To Hang Towels Out The Way:
There's nothing worse than a damp towel. Especially when there's a pile heaped up in the corner, creating a mess. Instead, find a solution that is warm and inviting. Our Gallery and standard towel warmers will offer a style, colour and heat output to suit most bathroom projects. Timeless chrome, matt black or minimalist white are just a few of the options available from Crosswater. Our Wedge style is particularly striking, featuring asymmetrical bars for the ultimate in style statement.
We hope our blog post has shown you that organisation and storage solutions don't have to be boring! Use these tips to brighten up your space and create a beautiful, decluttered bathroom – this will help clear your hear, especially when it comes to that precious time of relaxing in a hot bath or shower. We look forward to hearing how you get on!