10mm: How to Configure your Contemporary Shower Room
27 July 2021
Abi Hardiman
Looking to create a contemporary shower room to suit all your family's needs? Read on to discover how to introduce GALLERY 10 or OPTIX 10 into your home for a complete holistic showering solution personalised to you.
As part of the 10mm Collection, GALLERY 10 and OPTIX 10 have been expertly created with 10mm toughened safety glass and the highest quality materials to provide the ultimate shower experience from start to finish. Consider who will be using the shower, the space available and the style you're after – while GALLERY 10 luxury walk in showers create an easily accessible bathroom statement, OPTIX 10 luxury shower enclosures provide total envelopment for maximised privacy.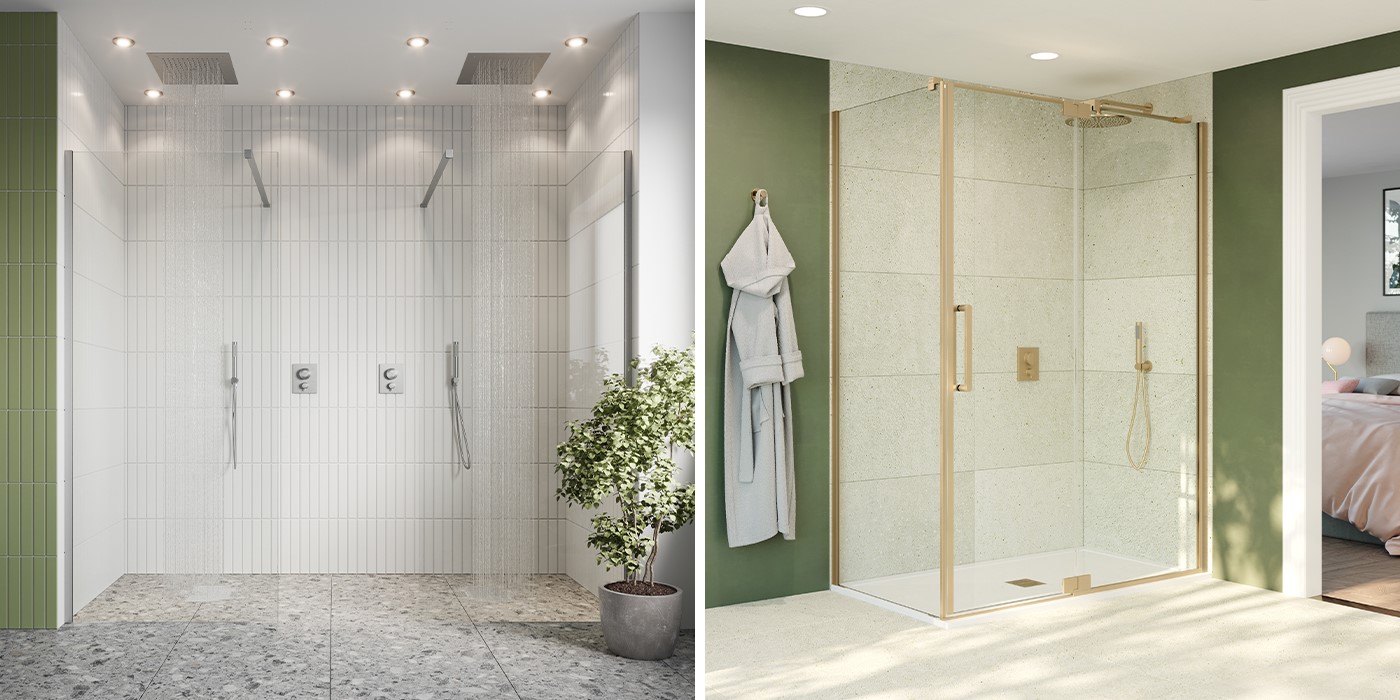 Opted for a GALLERY 10 walk in? Follow these simple steps to create your personalised luxury walk in shower.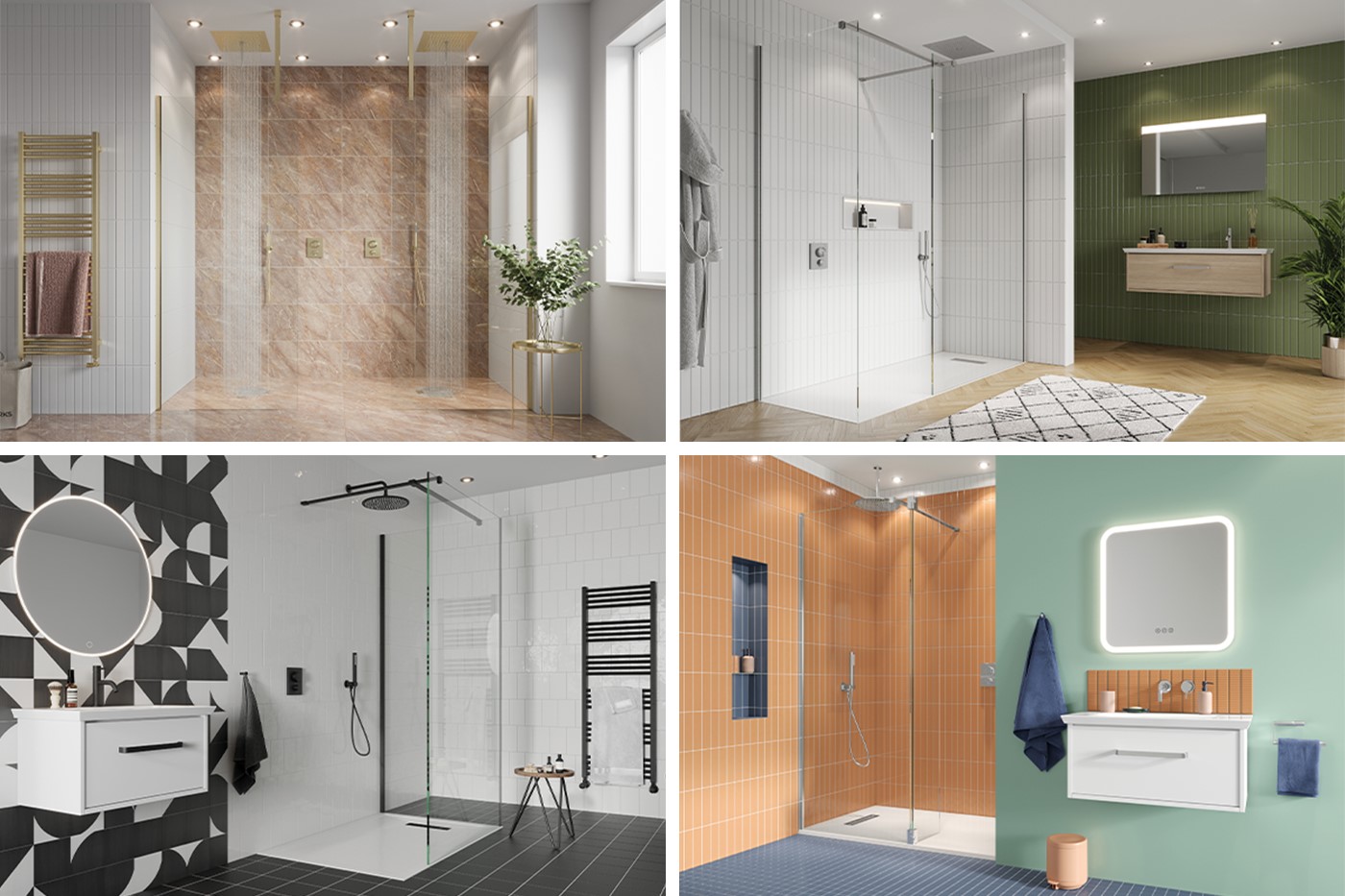 1.

Design your walk in.
Decided where your walk-in shower will go? Identify if this is a recess, corner, or a straight open wall to easily find configurations to suit the space in your contemporary shower room. Measure this space to find your shower dimensions and select the right size glass panels to fit, we recommend you allow a minimum 500mm entry space. With our modular component options, GALLERY 10 offers incredible design flexibility, giving you the freedom to create your own solution – discover our core configurations HERE.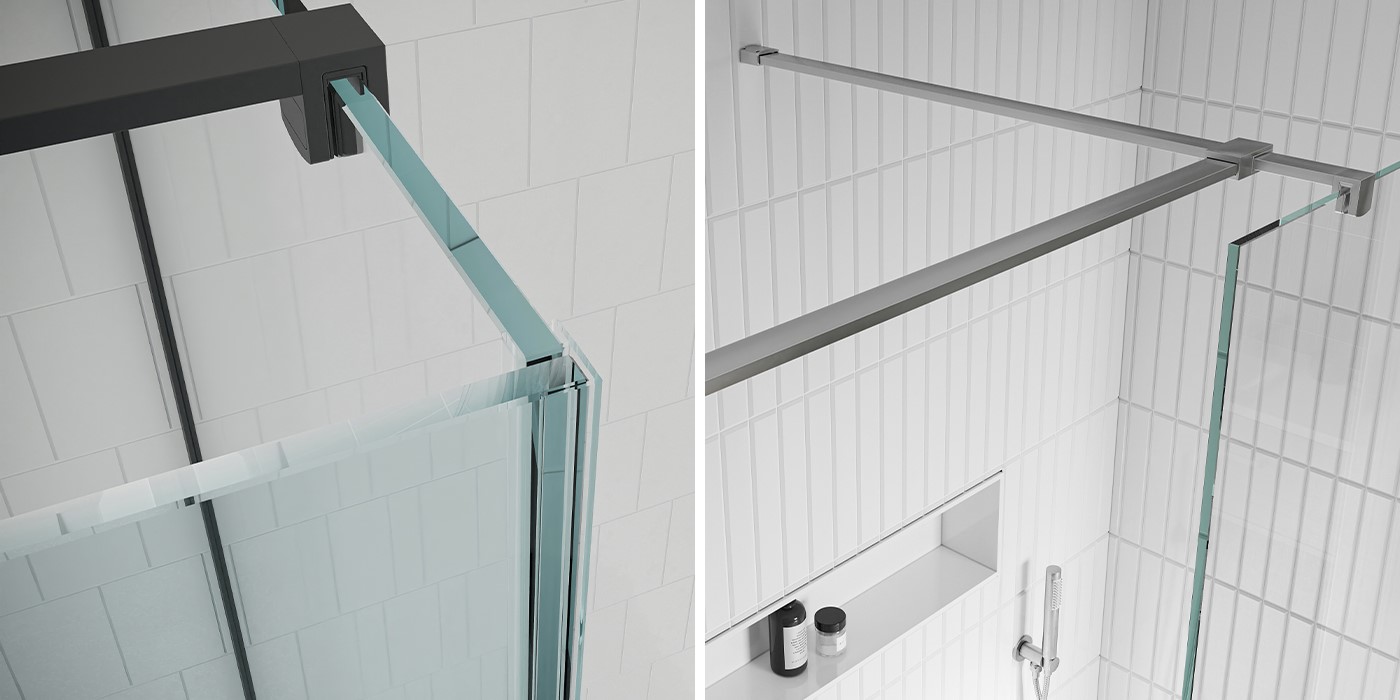 2. Consider your Stabilising Fixings.
To create a secure personalised showering space that brings complete peace of mind, we have a wide range of stabilising fixings available. Depending on your chosen configuration you may need to use a combination of fixings.
Glass to wall bracing bar: To connect glass to wall. At 1200mm long, this can support panels up to 1400mm.
Glass to ceiling bracing bar: To connect glass to ceiling. At 600mm long, this can support panels up to 1000mm.
T bracing bar: 'T' shape to connect two glass panels up to 1000mm in length to the wall.
Wall profile with 15mm adjustment: Supports panels up to 500mm (without a bracing bar).
Glass to glass seal: For joining two glass panels together.
Discover your local bathroom retailer HERE or see our core configurations guide for more advice on this.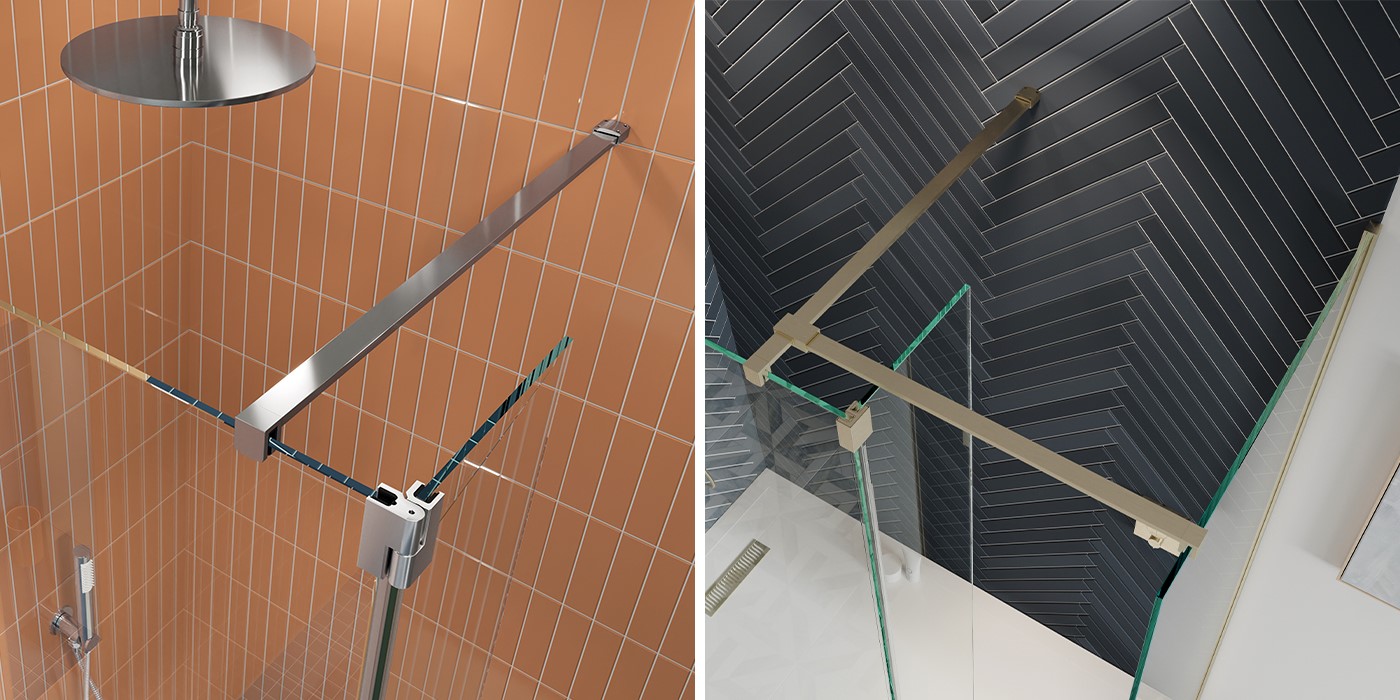 3. Reduce Splash with Optional Deflectors
Minimise overspray in your contemporary shower room by adding fixed or hinged deflector panels. Working on a 180º hinge, hinged deflector panels rotate for greater shower access, while fixed deflector panels remain in a permanent position, making them ideal for more modest spaces. Does your ideal shower design involve deflector panels for reduced splash? Remember to add these to your shower design plan!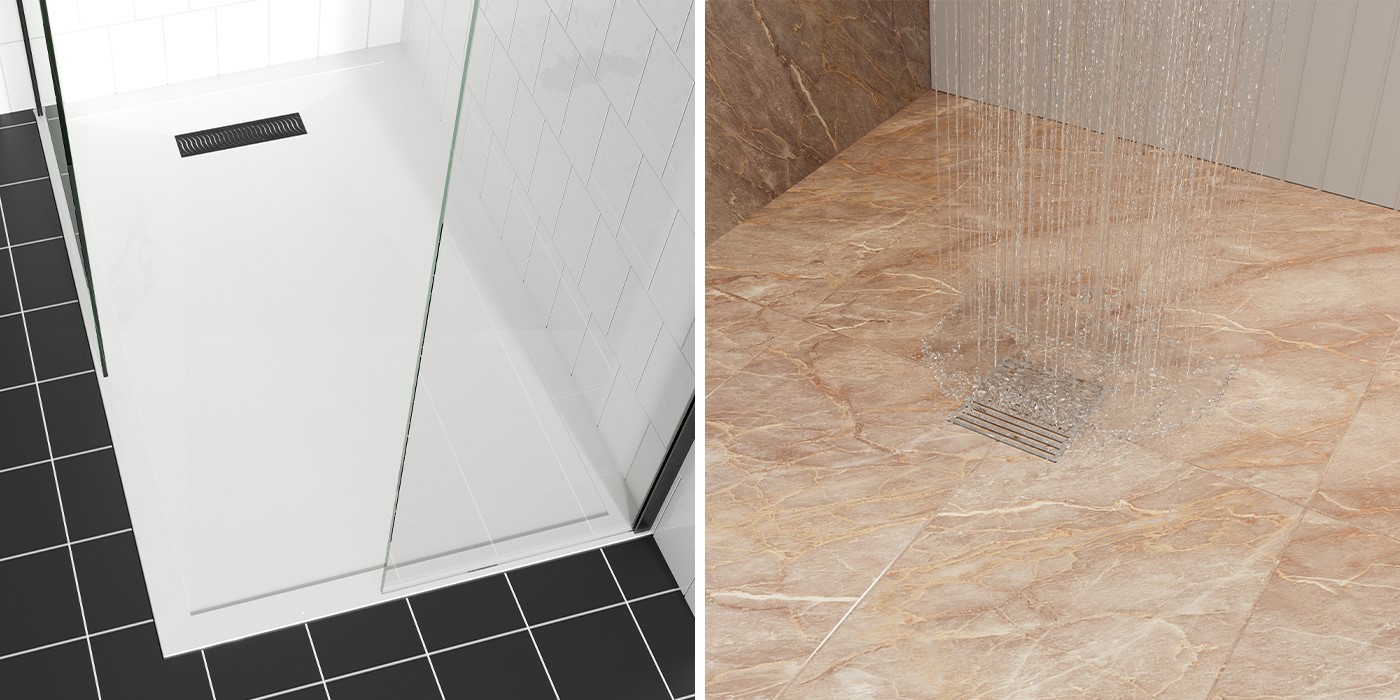 4. Choose your Perfect Shower Base
You've selected your glass panels, profiles and stabilising fixings, meaning it's now time to consider your shower base. Bringing undeniable design flexibility, GALLERY 10 walk ins can be installed with showering trays – we recommend our 25mm engineered stone linear and central waste shower trays designed with high-flow waste for instant water removal to provide a complete luxury walk in shower space from top to bottom. The high quality natural stone provides excellent heat retention properties, keeping the stone warm and soothing underfoot.
Alternatively, install a tiled bathroom floor – the choice is yours!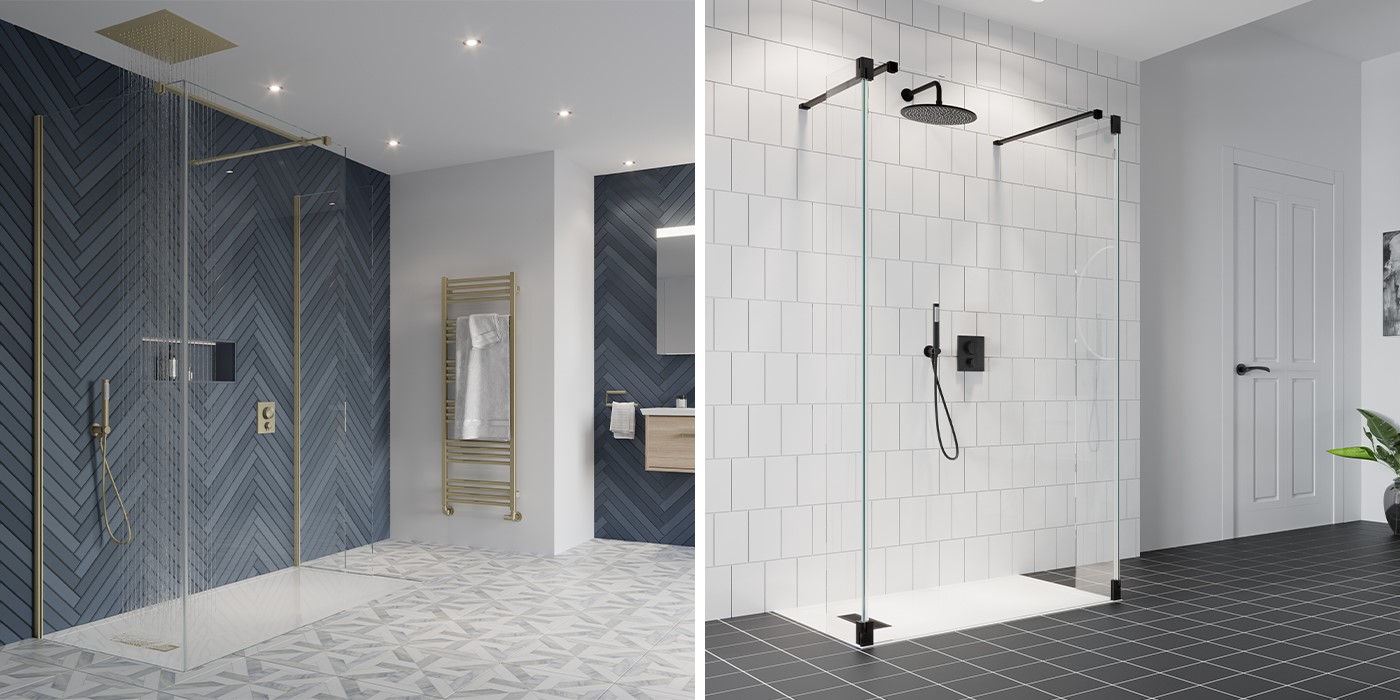 5. Complete your Showering Space
Have a bathroom colour scheme in mind? Choose from one of GALLERY 10's four indulgent colours – Brushed Brass, Brushed Stainless Steel, Polished Stainless Steel or Matt Black – for a luxury modern shower to suit any contemporary shower room.
External design complete, it's time to reiterate luxury within your shower interior with colour-matching MPRO shower brassware. Including valves, shower heads and flexible handsets, the MPRO range has everything you need to create a comprehensive and fully coordinated shower!
Chosen an OPTIX 10 luxury shower enclosure? Here's everything you need to know about OPTIX 10 to create your ideal contemporary shower room.

1. Choose your Design.
Have you decided where your shower enclosure will be located? Begin by measuring this potential space to know which dimensions and options are suitable for your room.
With five door types to choose from, OPTIX 10 has a solution for every family's needs:
Quadrant unit
Sinlge sliding door
Pivot door
Pivot with inline panel
Single bath screen with inline panel
Not identified your preferred door type already? It may be time to ask yourself some lifestyle questions, including who will be using the shower and the kind of experience you wish to create. Seeking an efficient, space-saving solution? A quadrant enclosure is perfect. Looking for combined bath and shower functionality ideal for the whole family? Opt for an OPTIX 10 bath screen. For a solution that integrates seamlessly into more modest settings, consider a pivot door enclosure featuring watertight magnetic door seals for hassle-free showering. Or, maybe it's a larger shower space you are after. In which case, introduce a pivot door with inline panel for substantial space without the need for a bigger door.
2. Choose your Perfect Shower Tray
No matter what type of door you have selected, don't forget to complete your shower with a showering tray! We recommend our innovative 25mm engineered stone linear and central waste shower trays. Warm and smooth to the touch, the excellent thermal retention creates a soothing feel underfoot. Designed with a central or linear drainage system with almost invisible gullies and a high-flow waste, no shallow pools of water can form on your shower floor, allowing your feet to have a serene experience every time. Available in multiple shapes, including square, rectangular and quadrant, and a range of sizes, there is a perfect Creo or Vito tray for every bathroom design.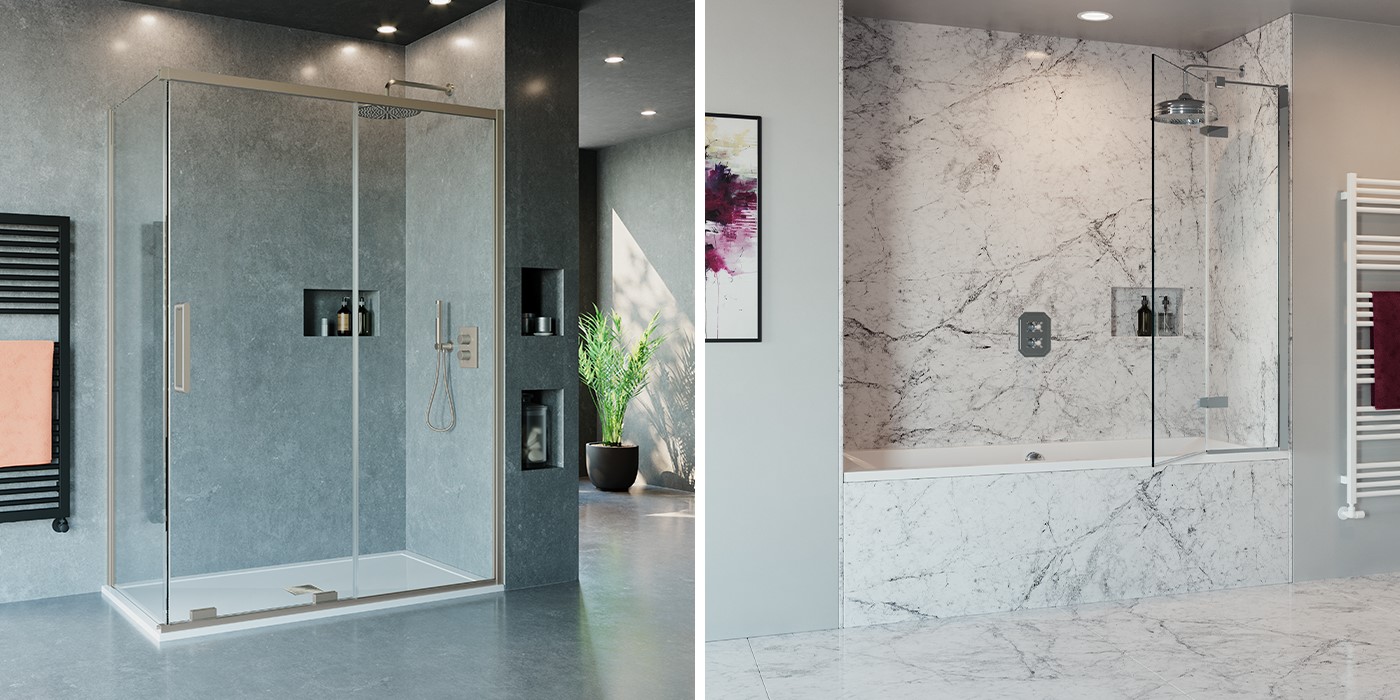 3. Complete your Showering Space
Want the colour of your luxury shower enclosure to complement your bathroom design? Available in 3 striking colours – Brushed Brass, Brushed Stainless Steel and Polished Stainless Steel, OPTIX 10 has a finish to suit every contemporary shower room scheme.
Introduce perfectly colour matching MPRO shower brassware alongside your OPTIX 10 enclosure for a cohesive showering solution. From valves and fixed shower heads to flexible hoses and handsets, create a shower that provides unparalleled luxury inside and out with MPRO and OPTIX 10.
Creating a luxury contemporary shower room has never been simpler with the 10mm Collection of showering spaces. Stay up to date with the latest 10mm inspiration by following our Instagram: @Crosswater_UK