Create a Romantic Bathroom Scheme with Pastels, Pinks and Golds
17 July 2019

I AM. DIVINE.
Dreamy. Gorgeous. Romantic. Our high-quality signature finishes and textures enable you to create the bespoke bathroom of your dreams – and, in the second part of our #ColourPersona mini-series, we present a range of divine bathroom designs to delight every homeowner.
Bringing together a collection of products that is both traditional and modern, we offer the divine homeowner a beautiful bathroom, which is at once both considered and peaceful. This blush-coloured bathroom is a place in which to reflect and wonder; a place to feel glamorous and elegant.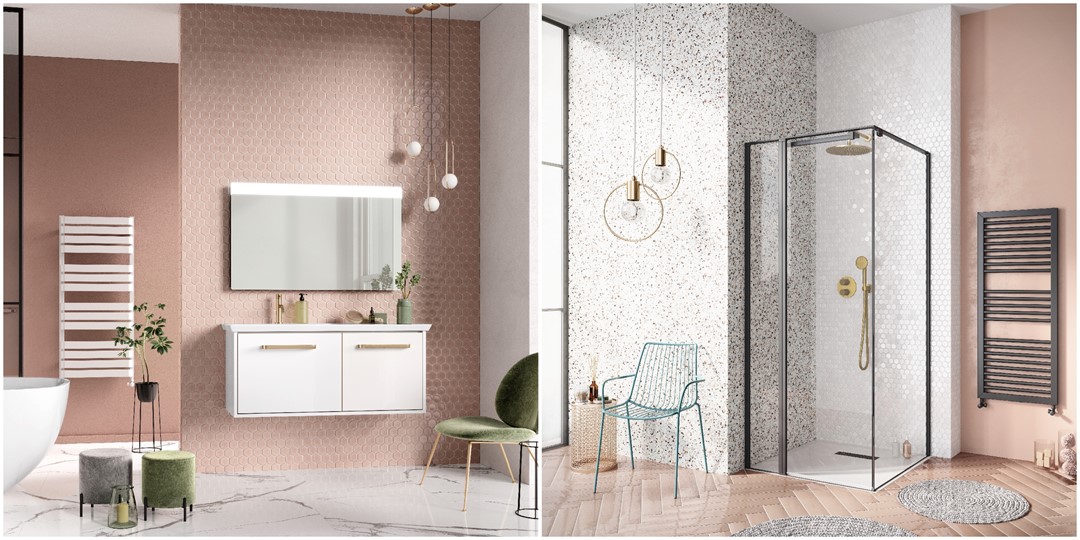 Utilising a lovely combination of subtle pastel shapes, neutral white and bold signature brassware, the final bathroom scheme is one that is reminiscent of light summer evenings; sunshine through the windows and pink flowers in bloom.
Gold and blush is used in harmony with terrazzo, which works perfectly alongside marble finishes and pops of pink and white. Furniture, like the upholstered green and gold chair used in the image, can be used to bring additional colour into the room and accentuate natural highlights like lush houseplants.
Crosswater offers a range of light, stylish products to complete a divine bathroom scheme.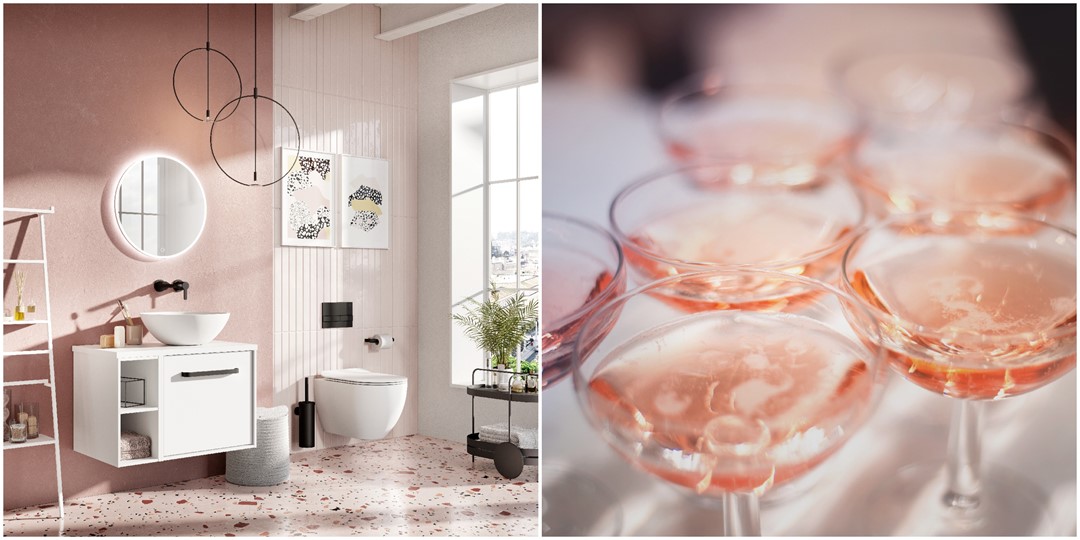 Seen here in the main image, the Divine bathroom is brought to life with an Infinity 500 White Gloss Single Drawer Unit and Infinity 200 White Gloss Base Unit, accompanied with a Polar White Worktop. This bright white set is paired with our Marvel Matt Black 2 Hole Basin Set and Castellon White PLUS+ TON Gallery Basin. The ultra-cool Glide II Gloss White Wall Hung Toilet is contrasted by the Arena Matt Black Flush Plate, MPRO Matt Black Toilet Roll Holder and Toilet Brush Holder. The entire look is completed with our stunning Infinity Illuminated Mirror.
Other products that help to achieve this divine interior look include Brushed Brass Handles, MPRO Brushed Brass Basin Monobloc and Celeste Soft White Towel Warmer.
For a romantic, divine bathroom that is harmoniously composed and in perfect sync with its surroundings, choose a divine interior design. Blush, rose and gold colour pops are perfectly complemented by white furniture and brushed brass. Calming, elegant and surprisingly versatile, this finish will bring warmth, glamour and elegance to your home.