How To Use Metallic Brassware Finishes In Your Bathroom
As the bathroom is a place to unwind and invigorate yourself after a long day, it is common to find bathrooms decorated in natural, light, bright colours to replicate the feeling of a relaxing spa environment. The most effective way to add a touch of character to your neutral bathroom space is to incorporate metallic finishes that will add instant warmth and visual interest.
There's a huge amount of choice in the market when it comes to deciding which metallic finish will look best in your bathroom – all with their own benefits. Some may look incredible, whilst others may be more practical and hardwearing, whereas others may just be easy to clean and maintain.
Classic Chrome in the Bathroom
Chrome has been the most universally popular finish for brassware and other bathroom products for years and, with its sleek and stylish look, it's not hard to see why. Featuring a shiny mirror-finish effect, chrome is the hardest of all metals and provides a clean, contemporary finish in the bathroom. It can be introduced in a number of ways, from brassware and towel rails to flush plates, storage and cabinets, and is just as at home in an urban, industrial style bathroom as it is in a period, traditional home.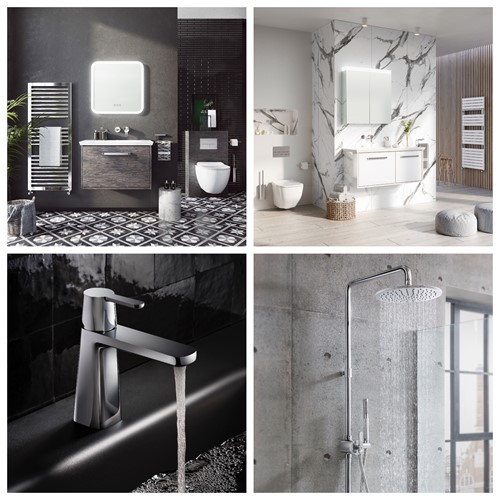 Warmer Toned Brassware in the Bathroom
In more recent times, warmer brassware colours have made a huge comeback - natural hues of metallic finishes can be chosen to complement neutral palettes in bathrooms, offering a balance of gold, brass and rust tones. These finishes also accentuate and enhance any sustainable, reclaimed materials that you might choose to use in your bathroom, such as stone and wood. Brushed brass is a surprisingly subtle alternative to some of the more glitzy metallic tones seen in the market over recent years - providing a luxurious finish to handles, accessories and brassware in the bathroom, this style hints at glamour and luxe while remaining tasteful when used cleverly.
Matt Black Metallic Finishes in the Bathroom
Inspired by the resurgence of rich, dark colour palettes across interiors, matt black metallic finishes have also proved hugely popular over the last year. From solo black taps, to a complete collection of coordinating brassware, there are many ways to bring this dramatic tone into your bathroom without overpowering it. A number of our ranges, including MPRO and Union, are available in a matt black or brushed black metallic finish for the ultimate style statement.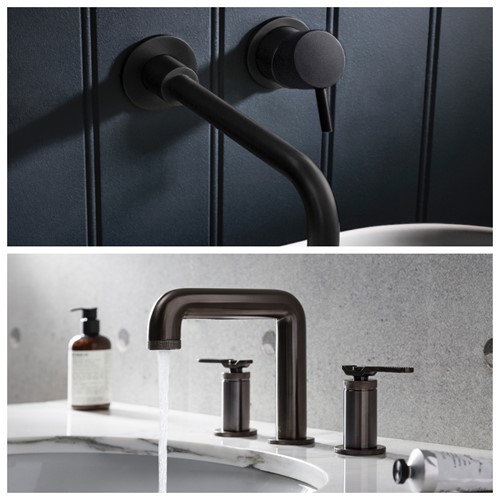 Mix and Matching Metallics in the Bathroom
One trend that we've seen become particularly popular is one that means you don't necessarily have to decide between one finish or another. The trend to mix and match different metallic finishes throughout the bathroom means that all traditional rules towards interior design have gone out the window! It used to be considered a design faux pas to mix metals in the bathroom. However, now when it comes to your bathroom décor you can combine colours, materials and patterns for a result that best reflects your personality. Mixed metallic finishes can actually end up creating a more sophisticated, complete look!
Gold, platinum, brass and copper are being included as metallic accents and design highlights, while black is being used on its own, but also to provide contrast to richer tones. Try not to exceed three different metal finishes – one dominant metal combined with one or two accent metals – for maximum effect.
Our Italy collection is offered in 49 colour combinations and gives life to true customisation through combining metals, natural stone and marble. Therefore, when it comes to bathroom décor, homeowners can combine metallic colours, materials and patterns to create an effect that reflects their own unique style. Mix and matching metallics can be applied to the fine finishes, elegant fittings and timeless accessories to create that luxurious feeling and help your bathroom achieve that beautiful look.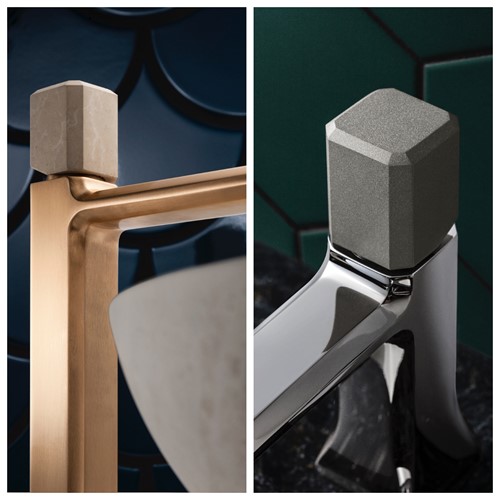 For more bathroom ideas, check out the rest of our blog posts or browse the full catalogue of products at www.crosswater.co.uk