Your Complete Guide to Buying a Shower
06 May 2020

When it comes to buying your new shower, the design that you decide upon will be an extremely personal choice. A shower needs to be functional for everyday use, as well as having a significant impact on the way your bathroom will look. But with so many different styles to choose from, how do you go about choosing the right one for you? Here at Crosswater, we are experts in showering and bathrooms so we've put together this blog post as a complete guide to buying your new shower, looking at everything from the enclosure to the brassware.
Planning Your Shower Enclosure
When planning your shower enclosure, it's important to think about factors such as the space available, who'll be using it, and how you can achieve the look and style that you love. These factors will help you to consider the ways your shower will need to be accessed, how the shower door opens, and if it'll look appealing in your bathroom.
Available in an all-inclusive range, these products include everything from space-saving pivot doors and quadrant enclosures, to stunning walk-ins. Glass panels are also offered in various thicknesses to provide affordable luxury for a range of different budgets. Whether you're looking to update a smaller or larger bathroom, our panels are presented in an array of options, making them perfect for bathrooms of all sizes.
Frameless shower enclosures are the ultimate contemporary addition to today's modern bathroom – just walk in for a truly refreshing showering experience. A pared-back design that's both simplistic and effective, this style is ideal for giving your bathroom the wow factor. Our 8mm enclosure range, including our Svelte 8 and Infinity 8 models, all offer seamless walk-in options for an on-trend, sleek look that combines the best of cutting edge technology with style and functionality.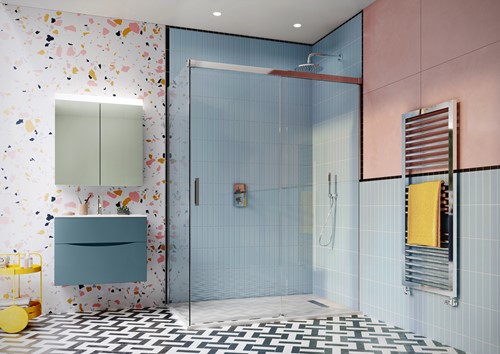 For those with more compact bathrooms that need to be more economical with space, sliding shower doors provide functionality without compromising on style. These designs are smart, sophisticated and offer another level of functionality within your bathroom. Our 8mm range also provides this option, as well as the models in our 6mm range – the Clear 6 and the Kai 6. Finished in a beautiful polished Stainless Steel, these designs will provide a stunning addition to your bathroom.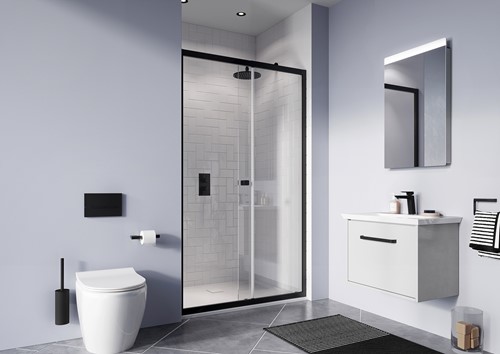 For the ultimate indulgence, our 10mm range offers an unprecedented level of comfort and style, and will launch later in the year.
Our shower enclosures also come supplied with Crosswater Clear glass protection as standard – a colourless surface treatment to prevent limescale and soap build up, making it easier to clean for sparkling clean glass everyday. And with the promise of a lifetime guarantee on all of our enclosures, it's also the smart option for long-term durability and everyday use.
Choosing the Right Showerhead
You might think that there isn't much to consider when weighing up different showerheads. However, they can hugely vary in size and water flow. A smaller head diameter provides a more concentrated down-pouring spray pattern for an invigorating and powerful shower, whereas a wider, larger showerhead offers a gentler showering option.
When choosing the showerhead to complement a larger enclosure, don't compromise on quality or style. Rainfall showerheads, such as our Tranquil Multi Flow showerhead, provides an indulgent soak and, when teamed with dual outlet thermostatic valves, or hand-held showerhead, will create the ultimate luxury showering experience.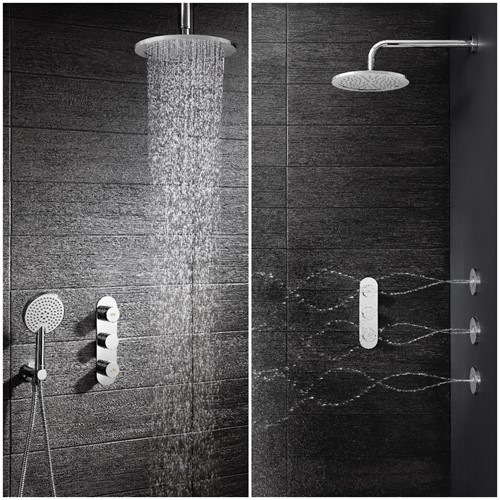 You will then need to decide if you want a ceiling or wall-mounted showerhead, which can come down to height preferences, and then whether you'd prefer a modern or a traditional design. Our Celeste showerhead is perfect for those looking to add an elegant, timeless style, while our MPRO and Union ranges provide a more contemporary aesthetic. We also offer a range of LED showerheads with stunning colours for a spectacular visual effect that provides the ultimate statement in contemporary bathing spaces.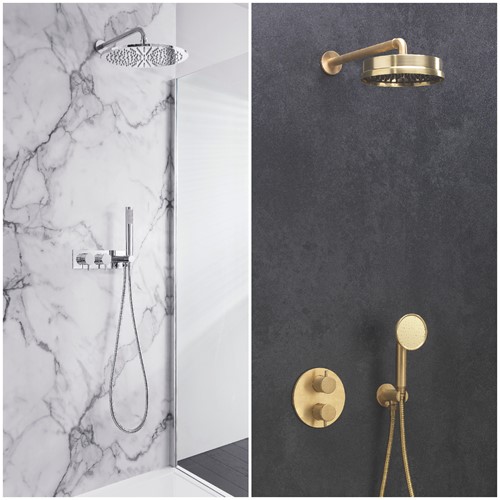 Picking the Perfect Shower Valves
For the perfect finishing touch, you'll need to choose a shower valve that complements your fittings, fixtures and brassware for an overall unified scheme. Our shower valve collection showcases products that are multifunctional, providing exceptionally advanced water control. From our MPRO to our Union ranges, each collection combines superb function and precision design for today's modern bathroom, with built-in safety controls, advanced thermostatic controls and easy-to-use fixtures
Stainless steel and chrome are the timeless options for a traditional bathroom scheme, while brass and nickel are perfect for something more luxe in style. If you're looking for something more contemporary in style, then matt black is a popular finish at the moment that makes a real statement in the bathroom. The fundamental nature of black creates clean lines and a strong modern aesthetic within bathrooms.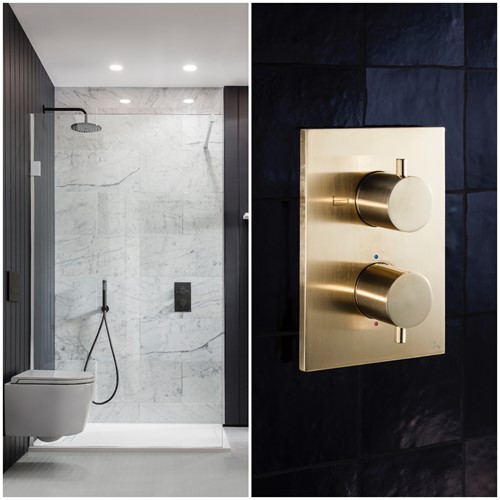 If you're looking to incorporate the next level of recessed shower valve into your plans, our Crossbox valve sets the benchmark for innovative bathroom design, with quieter mechanics and easy installation.
We hope our blog has helped you to think about the different options available to you when choosing your new shower, and also to think about the different components that need to be considered in order to make your final decision. Here at Crosswater, you can rest assured that we use only the finest components and materials to deliver on flow performance and, most importantly, safety and water efficiency – as well as making sure your products look beautiful in your bathroom!